Su e zo per i ponti ("Up and Down the Bridges" walk) is one of the many traditional events organised in Venice during all seasons: it's a non-competitive walk for everyone who wants to spend a day in the open air through Venice streets and squares.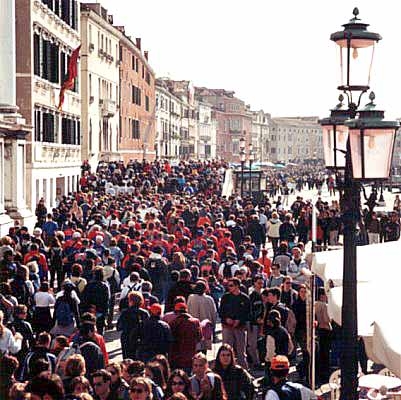 The walk takes place in spring, on a Sunday in March/April (the date changes every year) when the weather gets milder and all the partecipants can take adventage of this occasion to enjoy a day outside under the sun.
Besides the many Venetians, numerous groups coming from different regions and nations takes part in this event. Being a non-competitive race, it is aimed to everybody: young and less younger, families, school classes...
Useful information:
The 38th Su e zo per i Ponti will take place on April 2nd, 2017.
The route normally starts from the Ponte della Paglia.
Registration is closed at the moment.
For more info, please visit the official website http://www.suezo.it/en/.
Share on Facebook