An itinerary in Venice and its places inspired by a seducer that literature and countless cinematographic interpretations and representations have most spoken and written about: Giacomo Casanova.
A journey to the places of a city that certainly agrees with love and eroticism through itineraries Casanova described in his memoirs, memories of his gallant adventures, stories of his countless amorous affairs in typical places and surroundings of 18th century society of that time and all the settings of works in which the libertine was pre-eminently a protagonist.
In this portrait of Casanova who was a frequent regular client at brothels, a wanderer and a womaniser, you will discover an image of a personality that characterised a whole era and its tradition that may finish with the age of enlightenment or with Venetian exploits of another famous Venetian seducer, Lord Byron, but that doesn't stop ravishing the general image.
The image of erotic Venice, that with its charm seduced lovers and libertines who arrived here from every corner of Europe in order to consume their dissolute passions, had been handed down right from 18th century.
What we offer you is an unusual itinerary, discovering the places frequented by a character that was best renowned and representative from the lecherous, libertine and decadent aspects of 17th century Venice.
It's a one day itinerary, created to satisfy the curiosity of today's lovers and disclose the charm of places that had been theatres of Casanova's love adventures.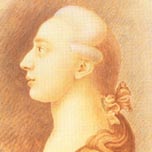 1° stage: (1 h) Starting point of this itinerary is Palazzo Merati, in Fondamenta Nove, a palace  where there used to live Giacomo Casanova's mother and sisters. Casanova  was born in 1707.
This lavish apartment, that has a recess with as much as a bed with canopy and stuccoes where the famous seducer had consumed his night adventures with many Venetian ladies, is the only one remained in the area where Casanova lived when he had returned to Venice after having received the clemency.
Today it is a private house and it's not open to visitors.
2° stage: (2 h) From Fondamenta Nove continue towards Campo San Maurizio: in this square with its recognisable leaning bell tower, in the palace that today there are the offices of Catholic Action, there used to live the Venetian erotic poet Giorgio Baffo who had a deep influence on young Casanova, starting from the art of seduction but who was also a great lover of Casanova's mother, actress Giovanna Farussi, known as La Buranella.
It was exactly Baffo who took Casanova to Padua, on his first voyage of this world pleasure's discovery. When visiting this square, you can stop in the shop selling antique glass at the corner where you might find Paolo Emilio Zancopé from Compagnia de Calza "I Antichi" who will tell you some anecdotes about Baffo and Casanova, being their great admirer. So, Casanova spent his life between this square, San Samuele, where his mother worked and Santo Stefano.
3° stage: If it's almost lunch time we advise that you go towards Rialto, a market area of great bustles of Venetians and tourists, today as it was yesterday, where, just as you climb down the bridge, after the Court, you'll find Sotoportego dei Do Mori and could take a break in homonymous tavern where they have been preparing cicheti and typical Venetian dishes since 16th century and which you can taste while sipping on an excellent malmsey, exactly like Casanova did when he used to stop here and wait for his lovers or chat with regular customers.
Otherwise, continuing towards the fish market, in Campo delle Beccarie, you could stop in an old trattoria/restaurant Poste Vecie which has been around since 16th century and where Casanova also used to grant himself a feast or two.
4° stage: (3 h) After lunch we move towards St Marks' Square, an elegant square which was, with its cafés and its hidden corners, a theatre of the seducer's many erotic adventures. Behind the square, in calle Vallaresso, you can find what used to be the famous Ridotto, a theatre nowadays, but once a gambling house where Casanova, hiding himself behind a mysterious disguise, used to spend many hours gambling with Venetian noblemen, waiting for one of his gallant meetings. At the bottom of the street there is Harry's bar, a pub belonging to the Cipriani family, a favourite spot for many artists, writers and poets amongst which there was a famous writer and seducer Lord Byron, and which would have surely been also for our Casanova if he had lived a few more years!
To the most romantic ones, we advise to stop and enjoy this bar's atmosphere sipping an excellent Bellini artistically prepared by Arrigo…
Before leaving the square, we suggest a visit to Piombi, the terrible prisons of the Doges' Palace that can be reached crossing the Bridge of Sights, where Casanova had been sentenced to 5 years' imprisonment, but from which he managed to escape through a hole in the ceiling after only 15 months.
A few meters from St Mark's Square a new Museum of Erotic Art was inaugurated during the Carnival 2006 but it closed a few months later.
5° stage: (2 h) From the pier of St Mark's Square (San Zaccaria) take a waterbus for Murano, the last stage of our itinerary of Casanova's places.
One of the most legendary adventures of the seducer was consumed on this island: the story of his love with M.M., a mysterious enclosed nun from the convent of Santa Maria degli Angeli in Murano.
Getting off at the waterbus stop Venier, you'll still be able to find a wooden wharf and a door of the convent from which the nun came out, accompanied by a young friend, both Casanova's lovers, who waited for them in the gondola, in the darkness of the night, hidden behind a mask that concealed his features.
From that witnessing place of secret meetings, today only desolated and crumbling remainders of the austere convent and the church remain, with a well curb in the garden, almost hidden by the high grass, but the atmosphere of mystery and solitude reigning around will take you back in time, saving room for your fantasy…
Useful information:
Prisons of Doges' Palace
Address: Entrance door (Porta del Frumento), S. Marco 1  - Piazzetta S. Marco, Venice
Facilities: assisted access, archive, photographic archive, didactic activity, audio guide, didactic hall, library, coffee shop, book shop, museum publications, shop, guided tour
Online booking: http://palazzoducale.visitmuve.it/it/pianifica-la-tua-visita/itinerari-s...
Web: http://palazzoducale.visitmuve.it/
Actv stop: San Zaccaria or San Marco
 Tel: 848082000
Indicative tour duration: one day
Share on Facebook